2017 Toyota RAV4 vs. 2017 Nissan Rogue
Do you travel often or have an active family? Deciding which compact SUV is best for your lifestyle can be a challenge, but comparing the 2017 Toyota RAV4 and Nissan Rogue side-by-side should make the decision much easier. While both popular small SUVs have a few similarities, our automotive specialists believe the 2017 RAV4 has some clear advantages. Better styling, performance, and safety features put it in a class above the new Nissan Rogue. To demonstrate we've compared the 2017 Toyota RAV4 LE and 2017 Nissan Rogue S.

If you have any questions as you view the details below, feel free to call our Crystal Lake, IL Toyota dealership at (888) 459-7100 or reach out through our online contact form.
2017 Toyota RAV4 vs. 2017 Nissan Rogue: Exterior
The 2017 Toyota RAV4 is undeniably more attractive with its sporty exterior. The new Rogue S made a respectable effort to stand apart with its appearance, but it doesn't compete with the RAV4. Both the new RAV4 and new Rogue S are athletic, but the RAV4 comes with several advantages that the Rogue S lacks.
The Nissan Rouge S includes 17-in. alloy wheels, but they aren't 17-in. wide-vent steel wheels like the Toyota RAV4 offers.
The new Rogue limits your self-expression to nine colors, while the new RAV4 lets you live in your truth with the choice between 13 color options.
The v-shaped grill on the 2017 Rogue is too bold, while the chiseled front gives the 2017 RAV4 an athletic, sophisticated look.

2017 Toyota RAV4 vs. 2017 Nissan Rogue: Performance
Whether you're driving through a new area or shuffling your family around town, a vehicle with great handling and fuel economy are important. Both are fairly close in performance, but the 2017 Toyota RAV4 once again beats out the 2017 Nissan Rogue.
The new Toyota RAV4 provides drivers with Sport Mode and ECO Mode to improve fuel efficiency and handling, while the 2017 Nissan Rouge S only offers Sport Mode.
The new Toyota RAV4 also includes a more powerful I-4 engine producing 176 HP compared to the 170 HP produced by the new Nissan Rouge.
The 2017 Toyota RAV4 includes a six-speed Electronically Controlled automatic Transmission with intelligence (ECT-i), improving fuel economy.
Toyota RAV4 LE vs. Nissan Rogue S: Safety
Driving can be nerve wracking for some drivers since decreased visibility and unexpected circumstances leave you vulnerable to the unforeseen. The 2017 Toyota RAV4 LE and the 2017 Nissan Rogue S have passive and active safety features to protect Crystal Lake, IL drivers and their passengers, but the new RAV4 LE adds an extra layer of safety thanks to the following features.
Automatic High Beam—switches high beams on and off, using a camera to help detect oncoming vehicles.
Whiplash Injury Lessening (WIL) seats—decreases severity of whiplash injury for the front row in the unfortunate event of being rear-ended.
Backup camera with projected path—shows a live view of what's behind you and shows the guidelines to help drivers avoid rear collisions.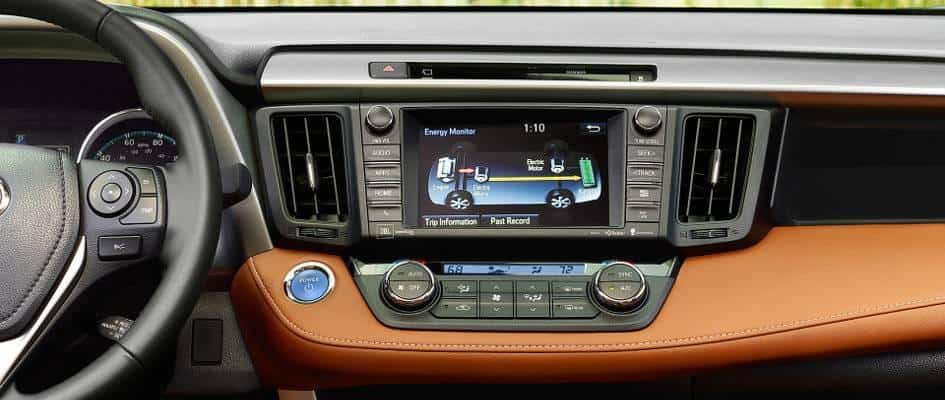 2017 Toyota RAV4 Available in Crystal Lake, IL
The 2017 Toyota RAV4 starts at $24,910 MSRP. If you want to find out why you'll get the most out of your adventures with the 2017 Toyota RAV4, come in for a test drive. Contact the friendly staff at our Crystal Lake, IL Toyota dealership by phone at (888) 459-7100 or through our online form below to schedule your next test-drive today!